Inclement Weather
Important New Information About Inclement Weather Cancellations
Occasionally transportation is cancelled due to weather. Depending on the location and type of weather occurrence transportation can be cancelled for a specific zone of Durham Region that DSTS is responsible for. Please use the Map Below to see if your Bus Stop falls within a specific weather zone that has been cancelled. A list of schools falling within each zone is also provided below for your information. Please note that DSTS offices remain open regardless of cancellations.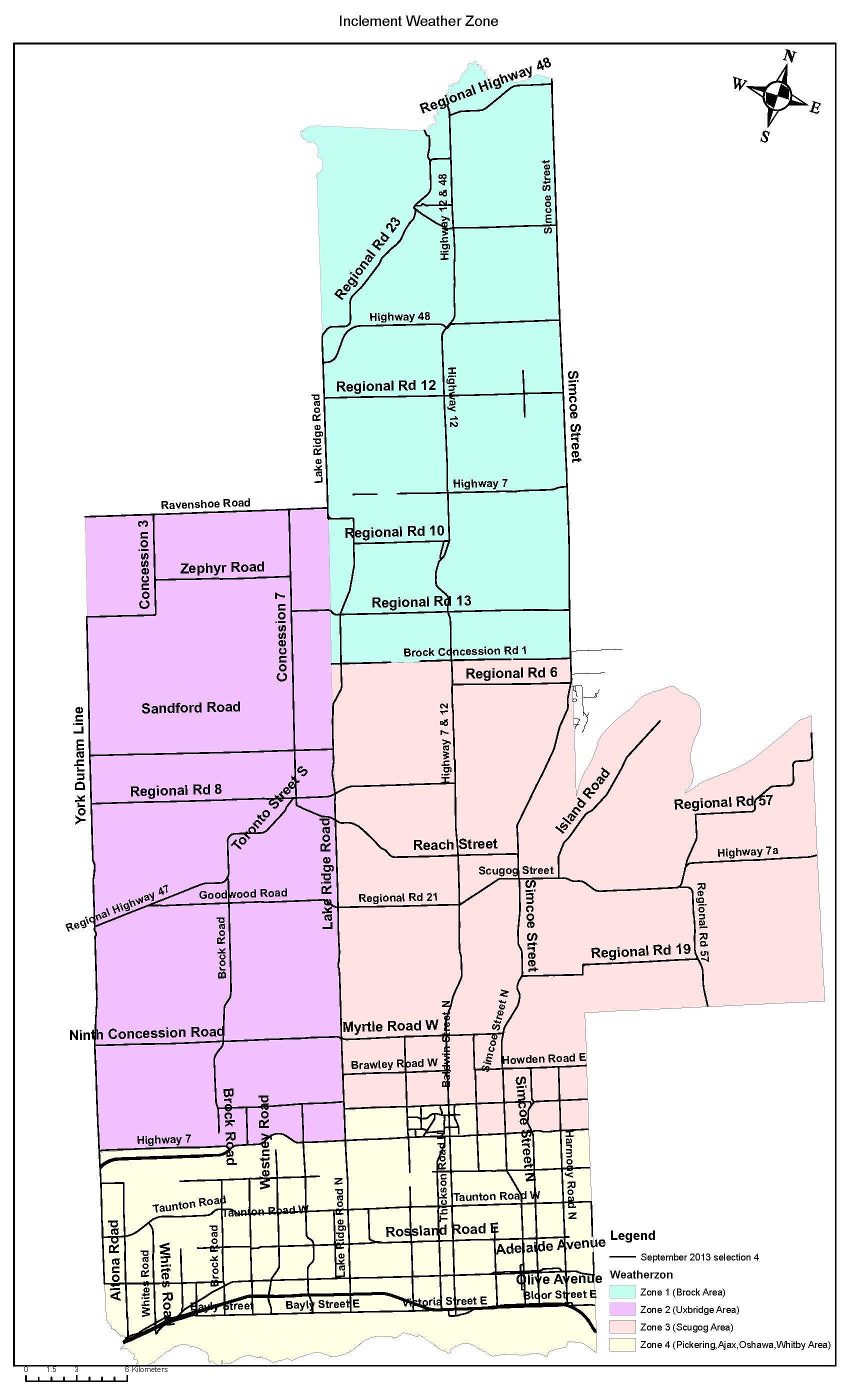 List of schools found within each weather zone:
In cases of extreme weather, please listen or visit to one of the local radio stations, TV news casts or websites below for notices of transportation cancellations:
CKDO-AM 1580
Q107-FM 107.1
94.9 The Rock
City TV
KX96-FM 95.9
CHFI-FM 98.1
EZ ROCK 97.3
CFTO
CFRB-AM 1010
CHUM-FM 104.5
CICX 105.9
Bounce-FM 91.9
Global TV
CP 24
---
School Bus Cancellations
If you have additional questions, comments or concerns please do not hesitate to send us an email on the Contact Us page.
How are decisions made to cancel bus service?
The cancellation of school bus service is a decision that is made in cooperation with information and advice from many local service providers. Starting as early as 4:30 am Durham Student Transportation Services (DSTS) is in contact with the following groups: road crews for Uxbridge, Brock and Scugog Townships, weather watchers in various parts of Durham Region along with representatives from the school bus companies.
Between 4:30 and 6:00 a.m., the group monitors the weather and road conditions closely. Ongoing updates are forwarded to DSTS during this time period. Weather stations, TV and radio stations are consulted for current weather forecasts and ongoing updates.
Before 6:00 a.m. DSTS reviews the information gathered and determines if the road conditions may warrant cancellation of the school bus service. DSTS then contacts representatives from both the Durham Catholic and Durham District School Boards with a recommendation.
The final step is that one of three outcomes is decided:
School Bus service will operate
School Bus service is cancelled
School Bus service cancelled by particular zones as noted above
Why is school bus service cancelled in various zones within the Region, for example, Brock Township?
The terrain and weather conditions change north of the Oak Ridges Moraine (the Ridges). Often weather conditions are more severe across the northern portion of Durham. The school bus routes for Brock, Uxbridge, and Scugog are: longer in length, travel on roads with posted speeds of 80 km/hr and require travel on concession roads that can remain unplowed and/or unsalted until later in the day after the major arterial roads have been plowed and/or salted. The response time can differ greatly from township to township thus new Weather Zones have been established and will provide a clear and effective way to communicate DSTS service cancelations or alterations.
Southern areas of Durham Region, the major arterial roads are plowed to accommodate commuters, and typically have larger volumes of traffic. The school bus routes in these areas are: shorter in length and travel on roads with posted speeds of 50 km/hr, and as a result DSTS service cancellations may not be required even if cancellations occur in other zones.
How are parents, students and staff notified of a decision to cancel school bus service?
When the decision has been made to cancel school bus service, all major media outlets are notified by telephone and e-mail. If all school buses are cancelled the message will state "All school buses for both the Durham Public and Durham Catholic schools are cancelled. Schools remain open." Similarly, if schools are closed the message will indicate the closure.
If school buses are cancelled, it is for the entire day regardless of what happens to the weather during the day. Please note, if parents drop-off their children at school in the morning, they are responsible to pick them up at the end of the day when school bus service is cancelled.
In cases of extreme weather, please listen to one of the local radio or TV stations above for notices of school bus cancellation